Jacksonville is a gorgeous North Florida city with great weather, sandy beaches, and a stable economy. Although many Florida cities have a reputation for being dangerous, Jacksonville is relatively safe for a city of its size and has many peaceful areas for residents and visitors. However, like any major city, Jacksonville has its good areas and its bad areas, and you must know which neighborhoods to avoid if you plan on moving to The River City. The Jacksonville homicide rate is considerably higher than the rest of the country. However, most violent crime tends to be isolated to specific areas. To help you better understand the city, here is a breakdown of the crime in Jacksonville. 
Understanding the Jacksonville Crime Rate - How Crime Rates are Calculated
Before diving into whether Jacksonville is dangerous, it's helpful to understand how crime statistics work and what they represent. Crime rates come from data collected by local law enforcement agencies that are compiled by the FBI and published as an annual report. The FBI collects this data and sorts it into two categories; violent crime and property crime. Violent crime includes assault, robbery, battery, rape and sexual assault, murder, manslaughter, etc., whereas property crime includes theft, burglary, larceny, auto theft, vandalism, arson, etc. 
Although crime rates are a good way to understand the criminal activity in a given area, they are not a perfect metric. Even the FBI itself warns people against using crime rates to compare cities, metro areas. 
Reasons crime rates may be imperfect include:
Not all offenses are included in crime rate statistics, only violent crime and property crime.
The data only reflects crimes that are reported or discovered by police, which may only be a portion of the overall criminal activity.
Reporting standards and arrest policies may cross between departments and precincts.
Crime may be concentrated in a certain area but reflect on the entire city.
Shootings and other attempted crimes are not counted in crime statistics.
Crime stats often need context, and the numbers alone may not tell the whole story 
For example, 2019 was Jacksonville's deadliest year in decades. However, the murder rate was nearly double that in 1989 and 1990, but it slowly declined until it reached a lull from 2011 to 2016. So if you saw the 2019 murder rate without that context, you may think Jacksonville is more violent than ever, but crime is up slightly from one of the safest periods in the city's history. 
That's why more context is needed to determine whether a city is safe. However, they can be useful tools for examining the available data and drawing certain conclusions. 
What is the Jacksonville Crime Rate?
The Jacksonville crime rate is 3,569 per 100,000 residents. That means the overall crime in Jacksonville is 65.8% higher than the Florida crime rate and 52.1% higher than in the rest of the country. The Jacksonville violent crime rate is 698 per 100,000 residents, or 82% higher than the Florida crime rate and 80% higher than the rest of the United States. The property crime rate is 2,871 per 100,00 residents, which is 62.3% higher than the rest of the state and 46.6% higher than in America overall.
Jacksonville Crime Map and Crime Reports 
The Jacksonville Police Department has several resources available on its website that you can use to better understand the city's criminal activity, including live Jacksonville crime reports and crime mapping.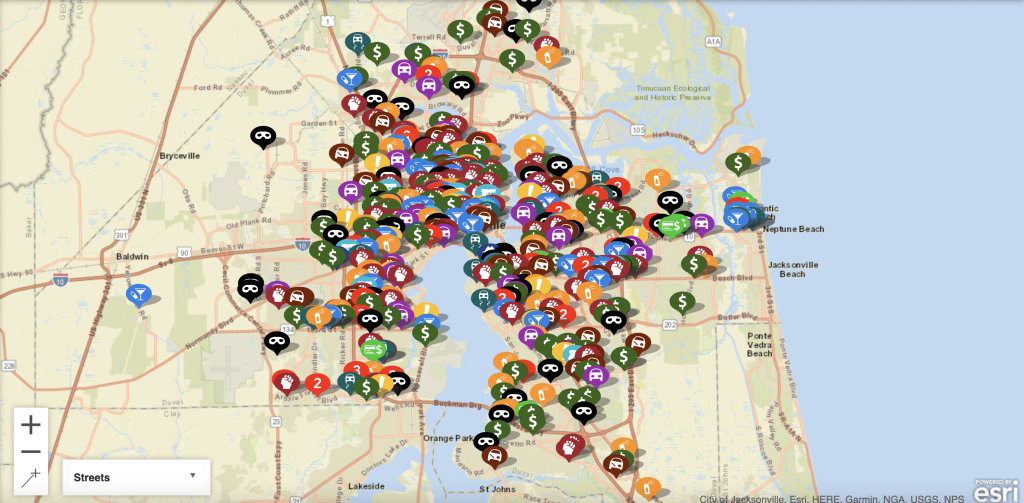 When a crime is reported, the location of the incident appears on the crime map with an icon indicating what type of offense it is (such as assault, burglary, theft, vandalism, etc.). If you click "reports" on the left-hand side, you can see a full breakdown of all the crimes listed, the exact location, and when the crime occurred, according to Jacksonville police reports. You can also click "chart", which will show you a graph and pie chart depicting a breakdown of the crimes in the selected period.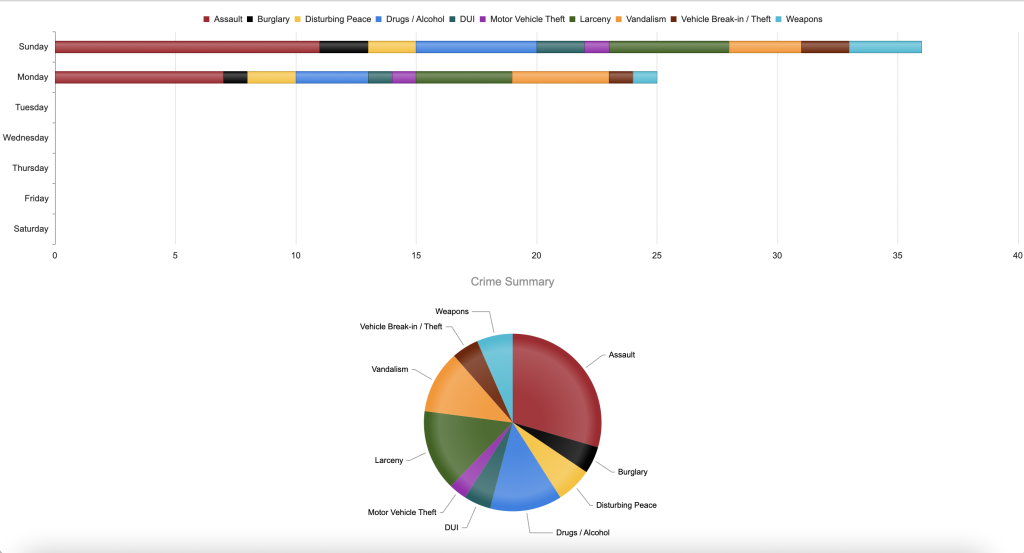 Violent Crime in Jacksonville
The violent crime rate in Jacksonville is 698 per 100,000 residents, 80%. Your chances of being the victim of a violent crime in Jacksonville are 1 in 143. A total of 6,424 violent crimes were reported in 2020, including 140 murders, 456 instances of rape, 928 robberies, and 4900 aggravated assaults. 
Jacksonville has also earned the nickname the "Murder Capital of Florida" for its high homicide rate. The Jacksonville murder rate is 15 per 100,000 people, meaning there were 154.2% more murders in Jacksonville than in the rest of Florida and 129.1% more murders than in the rest of the US. Although this may sound alarming, most murder and violent crime is concentrated in certain areas that you can easily avoid. 
Property Crime in Jacksonville
The property crime rate in Jacksonville is 2,871 per 100,000 residents, which is 46.6% higher than the rest of the US. There were 26,432 property crimes in 2020, including 3,860 burglaries, 2,970 motor vehicle thefts, 109 arsons, and 19,602 larceny thefts. Most of the property crime tends to occur in downtown Jacksonville and in surrounding neighborhoods.
High Crime Areas of Jacksonville 
Although it's a beautiful city with much to offer residents, Jacksonville's bad areas suffer from socio-economic problems such as poverty, gang violence, drugs, and homelessness. Therefore, there are certain neighborhoods that you will want to avoid, especially after dark. Here are the worst neighborhoods in Jacksonville. 
Jacksonville's Bad Neighborhoods
29th and Chase 
Population: 1790
Violent crime: 3,502 per 100,000 residents
402% more violent crime than the rest of Jacksonville
East Jacksonville
Population: 2,371 
Violent crime: 3,294 per 100,000
372% more crime than the rest of Jacksonville
Mid-Westside 
Population: 7,026 
Violent Crime: 3,184 per 100,000 
356% more crime than the rest of Jacksonville
Springfield 
Population: 5,730 
Violent Crime: 2,516 per 100,000 
261% more crime than the rest of Jacksonville
Moncrief Park
Population: 3,030 
Violent Crime: 2,403 per 100,000 
244% more crime than the rest of Jacksonville
Many residents also want to know if downtown Jacksonville is safe. In general, yes, downtown is safe for most residents and visitors. The city of Jacksonville has made a concerted effort to increase police presence, spend more money on streetlights and crack down on vagrants and panhandlers. Crime in downtown has dropped as a result, making it perfectly safe to live or visit. 
 

 

View this post on Instagram

 
Safest Neighborhoods in Jacksonville 
Even though it does have its rougher neighborhoods, Jacksonville is a safe place to live. Here are a few of the safest neighborhoods in Jacksonville. 
Population: 18,408
Crime Rate: 1132 per 100,00 residents
52% lower than the national average
East Arlington is a peaceful, suburban neighborhood on the east side of Jacksonville. It's a great community with a central location in between the beaches and downtown and offers affordable real estate, friendly neighbors, and low crime. 
Population: 19,692
Crime Rate: 1428 per 100,000 residents
39% lower than the national average
Jacksonville Beach is a resort neighborhood located directly on the ocean. The peaceful oceanside community is ideal for retirees, with plenty of golf courses, marinas, and other amenities. Jacksonville Beach also offers low crime and affordable living for beachfront real estate, making it perfect for those searching for seaside living at a discount. 
Population: 5,330
Crime Rate: 1428 per 100,000 residents 
39% lower than the national average
Just north of Jacksonville Beach is Neptune Beach, another coastal paradise offering low crime and easy access to attractions. Due to its peaceful atmosphere and safe communities, it's often considered one of the best places to live in Duval County. 
Jacksonville Safety Tips - How to Avoid Crime in Jacksonville
Hemming Park in downtown Jacksonville tends to be a hub for beggars and homeless people, so be aware when visiting the area.
The 29th and Chase neighborhood near the Mid-West Side has the highest violent crime rate in Jacksonville.
Alcohol and drug-related crimes tend to occur more frequently near the coastal areas. 
Downtown Jacksonville tends to shut down at night, so it's best to avoid it after dark. 
Stay within densely populated areas and avoid unfamiliar neighborhoods.
 

 

View this post on Instagram

 
Jacksonville University Security 
If you are moving to Jacksonville to attend college, you may be curious about the campus crime rate. The Jacksonville University crime rate is 3,072 per 100,000 residents, which is 31% higher than the national average. In 2019, there were six major crimes reported, including four instances of sexual assault and two motor vehicle thefts. If you need to report a crime or have questions about staying safe, you can contact Jacksonville University Campus Security at (904) 256-7585. Jacksonville University Police are available 24 hours a day, seven days a week. 
Jacksonville Police Department 
The Jacksonville Sheriff's Office is responsible for investigating and stopping crime in Duval County. The police department has 3078 employees, including 1789 officers or 2 per 1000 residents, and they also have 1,289 civilian employees. 
The department dates back to 1822, when Duval County was first incorporated, and James Dell was appointed as the first sheriff. Today, the organization is led by sheriff TK Waters. 
Residents can access crime reports, statistics, and other data on their official website. You can also visit their offices at 501 E Bay St, Jacksonville, FL 32202, or call them directly at (904) 630-0500.
 

 

View this post on Instagram

 
Jacksonville Crime Rate FAQ 
Is Downtown Jacksonville Safe? 
Yes, downtown Jacksonville is safe to visit, as there are plenty of police officers, security cameras, and streetlights. However, it's best to avoid visiting downtown after dark.
Is Jacksonville Safe for Families? 
Yes, there are many family-friendly neighborhoods in Jacksonville that are perfect for residents of all ages. However, you'll want to do some research and avoid the high-crime areas. 
Is Jacksonville Dangerous? 
Although Jacksonville does have a high rate of violent crime, in general, it's just about as safe as any other city of its size in the US. 
Ready to relocate to a safe neighborhood in Jacksonville? Trust the Jacksonville Movers at Skinner Moving and Storage to make your move far less stressful. Call us today to request a free quote.