Jacksonville is a city in Duval County, FL. It's ranked #16th best place to live in the US, and thanks to its affordable median home price (22% below the national average), it's on the Forbes list of best places to retire. Despite its many safe neighborhoods, relatively low crime rate, and beautiful beaches and coastal activities, Jacksonville is not an expensive place to live! The cost of living in Jacksonville, Florida, is 6% below the national average–finding a major city as affordable as Jax, FL, is rare! It's no wonder Jacksonville saw a 5% population increase from 2019 to 2021.
Jacksonville is a very good place to live! You have the amenities of a big city (like professional sports teams, lively nightlife, and great beaches), all at a low cost of living.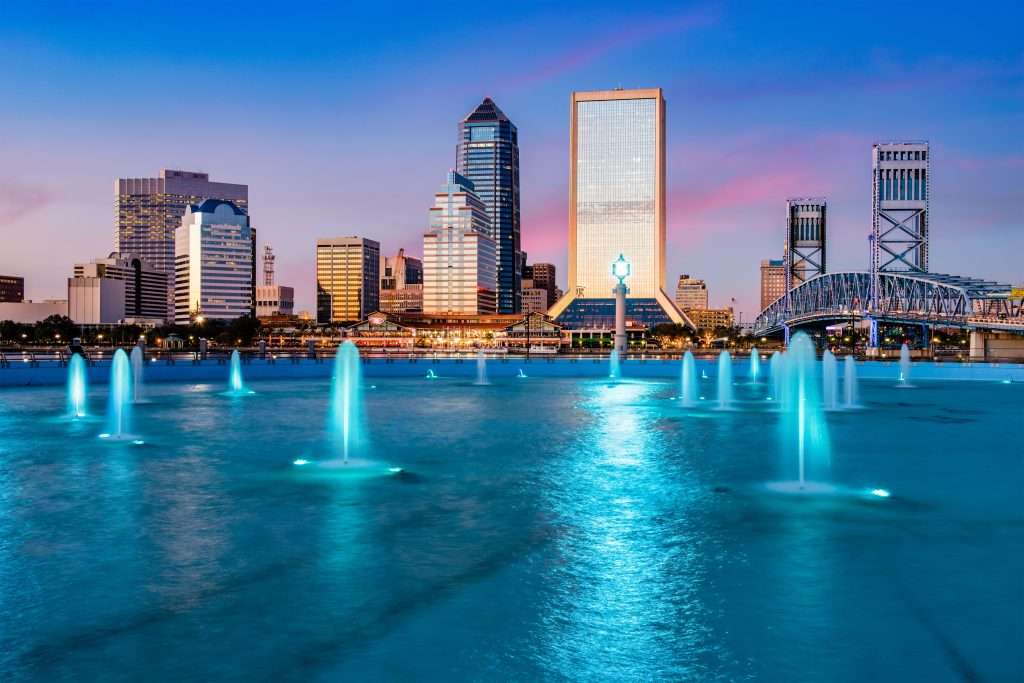 Jacksonville Cost of Living Index
Before moving to a new city, it's important to know if you can afford it. A great way to gauge how expensive a city is is by finding its Cost of Living Index (COLI), The cost of living index compares the overall cost of living in a city by analyzing expenses like housing, gas, utilities, groceries, etc. The average US cost of living index is 100; anything above 100 is more expensive than the average US city, and anything below is more affordable.
The Jacksonville, Florida, cost of living is affordable; the city has a COLI of 94.2, which is 5.8% below the national average. The Florida cost of living index is 103, making the Jacksonville, Florida, cost of living more affordable than its state. Although Jacksonville's housing index is 13% lower than the US average, groceries are 9.7% higher, healthcare has an index of 84.2, and utilities is 97. Overall, the cost of living in Jacksonville, FL, is more affordable than many US cities.
Consumer price index
The Bureau of Labor Statistics (BLS) uses the Consumer Price Index (CPI) to measure the average change over time in the prices of essential products and services. Jacksonville's consumer price index in the South Region increased 0.3% from last month and 4.4% from 2022, according to the BSL.
Food prices increased 7.1% over the year, and the energy index increased by 1.5% in June but fell 17.6% for 12 months until June 2023. Electricity increased 4.8% over the last 12 months, also ending in June, and natural gas decreased.
Consumer expenditures survey
The BSL maintains the Consumer Expenditure Surveys (CE), which provides expenditure, income, and demographic data on US consumers.
Two surveys help the BSL extract this data:
Interview Survey: The Interview Survey tracks major, expensive, or recurring items; cars, a home, etc.
Diary Survey: The Diary Survey tracks minor or frequently purchased items, including groceries, gas, clothing, etc.
The information below provides insight into what Jacksonville (and nearby) residents earn and what they spend their money on. Note that Jacksonville is in the south region.
Average annual Consumer expenditures for the South region:
Housing: $20,244
Transportation: $11,203
Food: $7,639
Healthcare: $5,107
Personal insurance and pensions: $6,876
Other: $10,404
The average weekly wage in the Jacksonville area is $1,241, compared to the US average of $1,385. Baker County is $829, Nassau is $1,017, Clay is $987, and St. Johns is $1,123.
Average hourly wages for select occupations in Jacksonville:
Registered Nurses (RN): $37.78 | US average is $41.70
Construction Laborers: $18.20 | US average is $22.29
Accountants and Auditors: $37.78 | US average is $41.70
The mean wage for the Jacksonville Metro is $26.87, 10% below the national average of $29.76. 
Economic policy institute | Family budget calculator
Can you afford to live in Jacksonville? Punch the city, county, or metro into the Economic Policy Institutes family budget calculator to see what a family of four living in Jacksonville should earn.
Two adults and two children living in the Jacksonville Metropolitan Area would need a salary of $6,594 a month and $79,124 a year to live comfortably. A good salary in Jacksonville is anything above $79,000. 
Here is a breakdown of the monthly and annual Jacksonville living costs:
| | | |
| --- | --- | --- |
| | Monthly Expenses | Annual Expenses |
| Housing | $1,113 | $13,356 |
| Food | $848 | $10,172 |
| Child care | $1,024 | $12,93 |
| Transportation | $1,157 | $13,887 |
| Health care | $1,208 | $14,499 |
| Other necessities | $710 | $8,525 |
| Taxes | $533 | $6,392 |
Cost of Household Items, Utilities, Gas, & Groceries in Jacksonville
What does Jacksonville living cost?  Here's the cost of living in Jacksonville, FL, broken down–expenses like groceries, utilities, public transportation, and more.
The average cost of typical Jacksonville, Florida living expenses:
Steak ribeye, 1 pound : $11.92
Milk whole 1/2 gallon:  $2.61
Eggs 1 dozen, Grade A: $1.83
Potatoes 5 pound bag: $3.53
Bread wheat, 1 loaf: $3.89
Beer Heineken 6 pack: $10.51
Movie Ticket 1st run $11.98
McDonald's burger 1/4 pounder: $4.17
Average cell phone bill: $191.90
Average cost of gasoline per gallon: $3.366
Average Jacksonville utilities per month: $276 (per Doxo)
Average monthly car insurance premium: $2,517
Jacksonville Transportation Authority provides public transportation to Jacksonville residents.
Fare costs with the Star Card:
1-day pass: $4.50
3-day pass: $12
7-day pass: $20
31-day pass $65
31-day youth pass: $31
The average commute time is 23.3 minutes; 71% of commuters drive alone, 8% carpool, and 16% work at home–only 1% of Jacksonville's workforce uses public transportation.
Jacksonville Housing Market
The real estate in Jacksonville, Florida, is only considered somewhat competitive. Homes typically receive one offer and sell within 43 days; 1,373 homes sold in May.
The median sale price is down 6.3% since 2022; the Jacksonville median home price is $300,000, compared to the US median home price of $440,300. The price per square foot is $191, which is down 2.8% since 2022. 59% of Jacksonville homes are owned, and 41% are rented. 34% of the residents have lived in Jacksonville since 2017.
Jacksonville, Florida, housing marketing when broken down by home type:
Median sale price for townhomes: $274,490
Median sale price for condos and co-ops: $205,054
Median home price chart:
While the Northeast's housing market was booming for a period, housing prices are finally starting to dip. However, Zillow still predicts the Jacksonville housing market to be in the top 10 for hottest US real estate markets.
The price-to-rent ratio (median home price ÷ median annual rent = price-to-rent ratio) is a formula used to determine whether renting or buying is a better financial decision depending on an area's economic health. A low ratio means it's a buyer's market, and a high ratio means renting is the best choice. The 1 to 15 ratio indicates its time to buy, and 16 to 21 means renting is a smart financial decision. Anything above 21 means renting is a much better choice.
Jacksonville has a price-to-rent ratio of 12, meaning now is the right time to buy! And there are many beautiful homes for sale in Jacksonville, FL.
Most expensive and affordable Jacksonville neighborhoods
Overall, the Jacksonville housing market is affordable, and it's the perfect time to start browsing Jacksonville homes for sale.
Take a look at a few of the most expensive and most affordable neighborhoods in Jax.
Avondale: Boasting beautiful, historic early 1900 homes, Avondale is one of the most affluent neighborhoods in Jacksonville. The median sale price is $423,000, over $100,000 more than the city's median home price.
San Marco: San Marco is a great choice if you're looking for a centrally located, safe neighborhood in Jacksonville. While many homes are waterfront, there are more affordable options in the inner neighborhood.
The median sale price is $298,000, and the average price per square foot is $209. Homes go quickly here, selling within an average of 39 days.
Jacksonville Rental Market – Average Rent in Jacksonville FL
According to RentCafe, the average rent in Jacksonville, FL, is $1,522 for a 969-square-foot rental. However, the price varies drastically depending on location.
The most expensive and safe neighborhoods in Jacksonville are: 
Bartram Park: $1,770/month
Del Rio: $1,770/month
Isle of Palms: $1,707/month
The most affordable Jacksonville neighborhoods are:
29th & Chase: $884/month
College Gardens: $884/month
Edgewood Manor: $884/month
According to the 2022 Rental Affordability Report, it's cheaper to buy in Jacksonville than it is to rent. While the average rent in Jacksonville, Florida isn't extremely expensive, buying is your best option.
Out of Reach estimates the hourly wage a full-time employee must earn to afford a modest rental property without spending more than 30% of their income on housing. In Jacksonville, to afford a two bedroom rental, you would have to earn an hourly wage of $25.19 while working 40 hours a week. If you were earning the Jacksonville, FL, minimum wage ($11), you would have to work around 100 hours a week to earn an equivalent salary.
Average Salary & Household Income in Jacksonville
According to Payscale, the average salary in Jacksonville, FL, is $68,000, and the average hourly wage is $18.93. The median household income in Jacksonville, FL, is $58,621, and the average household income is $32,953.
The mean income is the average income for an occupation, and the median divides the income distribution into two groups–half earning an income above that amount and half earning an income below. 50% of people working in that occupation make more than the median, and 50% make less.
The BLS Occupational Employment and Wage Statistics provides wage data for Jacksonville. 
| | | |
| --- | --- | --- |
| Occupation | Mean Hourly Wage | Median Hourly Wage |
| Registered Nurse | $37.74 | $37.74 |
| Waiters and Waitresses | $13.40 | $15.33 |
| Hairdressers, Hairstylists, and Cosmetologists | $14.02 | $16.72 |
Income, Sales & Property Taxes in Jacksonville FL
Income, sales, and property taxes can greatly affect a city's affordability. Here is a breakdown of what to expect to spend on taxes in Jacksonville.
Florida income tax
There is no individual income tax in Florida. However, the state does have a 5.50% corporate income tax. Florida does have state taxes (like sales tax), which is 6%, but not individual income tax.
Jacksonville sales tax
The sales tax rate for Jacksonville, FL follows:
| | |
| --- | --- |
| District | Rate |
| Florida State | 6.000% |
| Duval County | 1.500% |
| Jacksonville | 0.000% |
| Total | 7.500% |
Jacksonville has a minimum combined sales tax of 7%. Florida is #22 out of #50 for sales tax.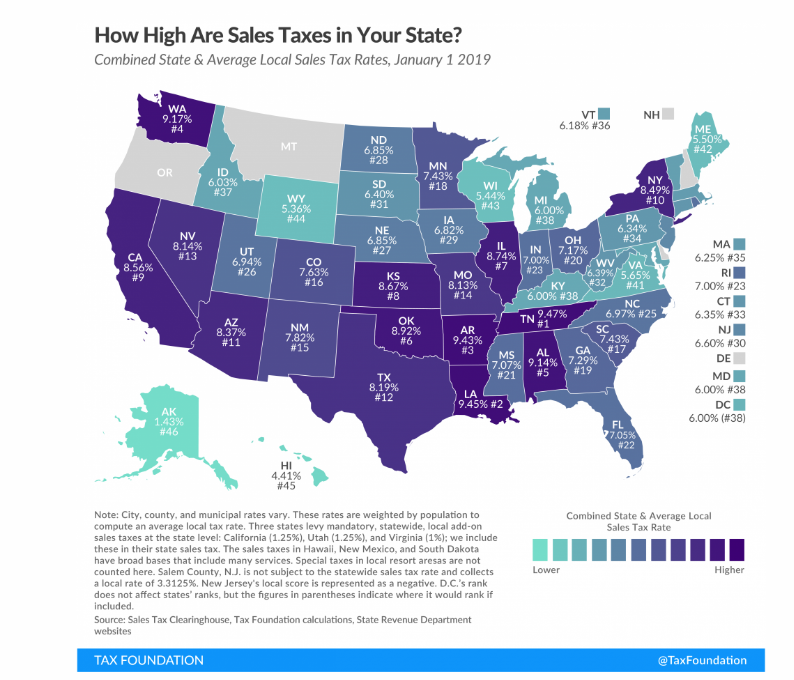 Jacksonville FL property tax
A millage rate is used to determine the property taxes in Florida, which is one-tenth of a percent, or $1 in taxes for every $1,000 (in home value.) However, counties, municipalities, school boards, and special districts can (and do) levy these rates.
The Jacksonville, Florida property tax is collected by Duval County and is projected to be around $11.32 per $1,000 of taxable property value, compared to $11.44 in the 2021 tax bills.
The property taxes in Jacksonville, FL, will vary on location. For example, Jacksonville Beach's property tax rate is around $3.99 per $1,000 of taxable property value; however, when added to the city's base rate, it adds up to $12.02 per $1,000 of taxable property value.
The Duval County property taxes are, on average, 0.85% of a property's market value. The median Duval County property tax is $1,500 per home with a median assessed value of $175,900–one of the highest median property taxes in the US.
Jacksonville vs Tampa Cost of Living
While both are beautiful FL cities, the cost of living in Jacksonville is 9.2% cheaper when compared to Tampa, FL. For example, the median home price in Jacksonville, FL, is 26% cheaper when compared to Tampa.
| | | | |
| --- | --- | --- | --- |
| Cost of Living Indexes | Tampa | Jacksonville | Difference |
| Food & Groceries | 105.1 | 99.2 | 5.6% less |
| Housing (Owning) | 94.9 | 78 | 17.8% less |
| Utilities | 96.3 | 102.8 | 6.7% more |
| Transportation | 112.1 | 101.4 | 9.5% less |
| Healthcare | 100.3 | 100.2 | 0.1% |
| Median Home Cost | $381,000 | 280,200 | 26.5% less |
These figures are for a homeowner with no childcare expenses and taxes not considered.
Despite its beautiful homes, endless amenities, and luxurious coastal vibes, Jacksonville, FL, cost of living is still more affordable than the average US city. When you compare the cost of living index of Jacksonville to other coastal Florida cities, you'll see how affordable this town really is! The quality of life in Jax is fantastic; you can have fun while saving for retirement, college funds, and family vacations.
Still wondering if Jacksonville is a good place to live? Yes, this beautiful city provides an affordable cost of living, with houses costing 22% less than average. When you're ready to move to Jacksonville, give the trusted Jacksonville movers at Skinner Moving a call at 904-730-1545.